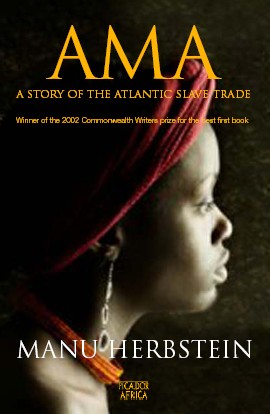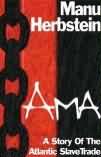 Table of contents, List of characters, Glossary, Synopsis, Script, Stories, Maps, Pictures, Author Index, Publisher Index
Africa, Europeans, The Love of Liberty (Middle Passage), America, Epilogue, Attitudes to Slavery, Other Matters
Authenticity/plausibility, the Middle Passage in Fiction, Memories of the Middle Passage, African Participation in the Slave Trade, the Atlantic Slave Trade in the Curriculum of American Schools, Racism, Reparations
Slavery and the Slave Trade
Films, UNESCO Slave Route, Museums, Conferences, Slavery in the World Today, other links.
Ama, a Story of the Atlantic Slave Trade
Author, Publisher, Acknowledgments
Miscellaneous
African Literature, Tourism in Ghana and Brazil, Electronic Publishing
News & Reviews; Kind Words; Ama used in an academic environment
I would like to see slavery viewed from the perspective of the Africans who were victims of it . . .
John Hunwick
H-Net Discussion List on History and Study of West Africa
[H-WEST-AFRICA@H-NET.MSU.EDU]
18 November 1999
. . . how the creative imagination dares to probe those dark recesses of a lived experience so traumatic that formal historiography is often unable to document it in all its complexities. . .
Kofi Anyidoho
DOCUMENTING AFRICAN EXPERIENCE OF SLAVERY: History, Literature, Film